Palo Alto aligns its production strategy being environmentally conscious and friendly.
Palo Alto was born in 2006 with the aim of faithfully expressing the characteristics of the Maule Valley through its wines.
With a simple approach and exquisite quality, the brand's chief winemaker, Héctor Urzúa, brings to life a portfolio of Varietal, Reserva and Gran Reserva wines, which tell us about the rich diversity of climates and soils of the Maule Valley.
Palo Alto is the popular name given to the hawthorn ("espino"), a native bush that abundantly covers the hills of the Maule Valley. These trees grow best in dry, rocky, poorly fertile soils.
For the farmers of Maule, it is no coincidence thatwhere a "palo alto" is seen, the optimal conditions to produce high quality wines are also found.
Héctor Urzúa, chief winemaker of Palo Alto, is a faithful admirer of the Maule Valley and the various expressions that this place can offer. He has lived for more than 25 years in the valley and, throughout this time, has carefully studied the various areas that compose it, betting on developing a wine portfolio of outstanding quality and distinctive of their origin. The blend of varieties in all Reserva and Gran Reserva level red wines is an essential characteristic in Palo Alto, thus seeking to express the best of the Maule Valley.

"Through Palo Alto I have wanted to publicize the versatility of the Maule Valley, looking for the different areas that allow the best expression of each variety to be obtained, and always with a unique stamp: wines of intense, vivid and bright color, that conquer for its fruit, good volume and great freshness".
Héctor Urzúa
Palo Alto comes from the Maule Valley, a wine region located at the southern end of the renowned Central Valley and is the largest and most traditional wine growing area in Chile.
Our wines come from four vineyards (Lourdes, Villa Alegre, Mariposas and El Boldo), where different soil, climate and geographical conditions can be found, which allows us to obtain the best expression of each variety. Its clay loam soils, gentle slopes and hillsides allow the vines to enjoy fresh winds and wide thermal oscillations between day and night, ideal conditions to achieve fresh, fruity wines with good volume.
Villa Alegre
El Boldo
Lourdes
Mariposas
Villa Alegre
From this vineyard comes our fresh Shiraz. A characteristic element of Villa Alegre is its soil, made up of a mixture of clay and granite, giving the wines vigor and structure. However, what is most distinctive about this course is the beauty of its winding vineyards. Its rugged relief gives the clusters different exposures to the sun, facilitating the formation of winds that cool the vines, allowing the fruit to ripen slowly.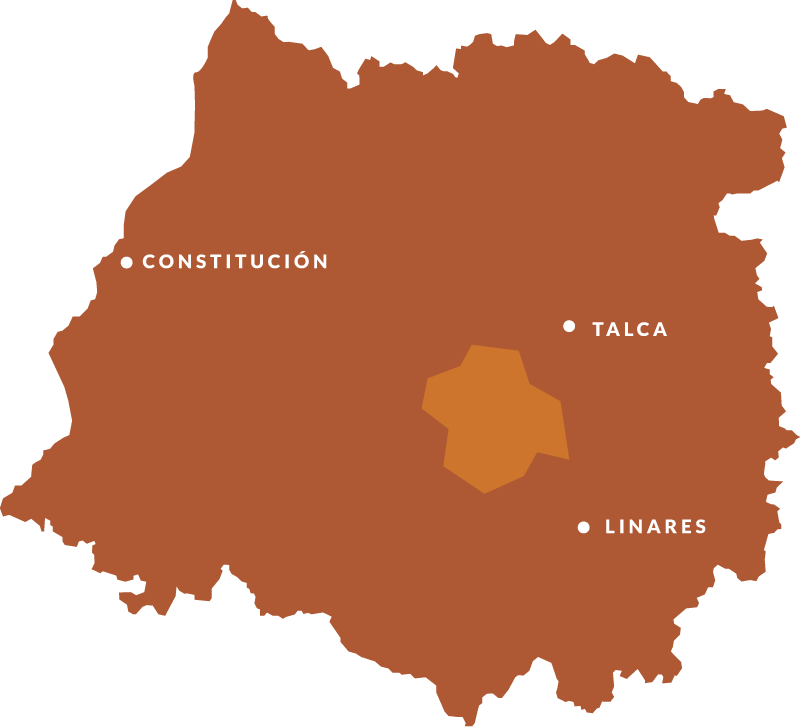 El Boldo
Lourdes
Mariposas